Drum Peel Testing
One of two apparatus types we use for frequent drum peel testing
What is a Drum Peel Test and Why Do We Use it?
Our engineers use the drum peel method, per ASTM D1781 specifications, to test the peel resistance of adhesive bonds between developmental materials, such as our interior décor, as well as materials already used widely in the industry, like FRP. As it is imperative that we ensure a quality bond for a quality product, our drum peel testing is performed regularly on genuine manufacturer-made wall sections.
For exteriors we test the Gold Bond. This is the adhesive layer between the exterior FRP skin and its substrate, whether that be our composite or lauan. It's considered the "gold bond" because it's the all-important bond that aids in the aesthetic quality of the sidewall, and can help determine the overall durability and resistance to delamination. It is this bond that is most at risk of degrading during hot and cold cycles, especially when lauan is present, and after water ingress. Read more below about the equipment used for the drum peel tests and how they work.
The Climbing Drum Peel – Automated
This laboratory-grade apparatus is used to test the peel resistance of a variety of bonds, for both interior and exterior applications related to RV wall construction.
With the end of the outermost layer of the sample locked into the drum, the drum slowly but consistently climbs up the sample piece, measuring the force required to peel that layer away from its substrate. Unlike the manual version, this automated device records and analyzes all resistance levels throughout the entirety of the test, and outputs the results graphically. It is significantly more sensitive to peel resistance, able to accurately measure lighter loads of interior décor layers.
For interiors, we test the bonds between a vinyl décor and lauan, vinyl and Azdel Onboard® composite, and the bond between our own in-line décor materials (DuraBlend™) and our composite.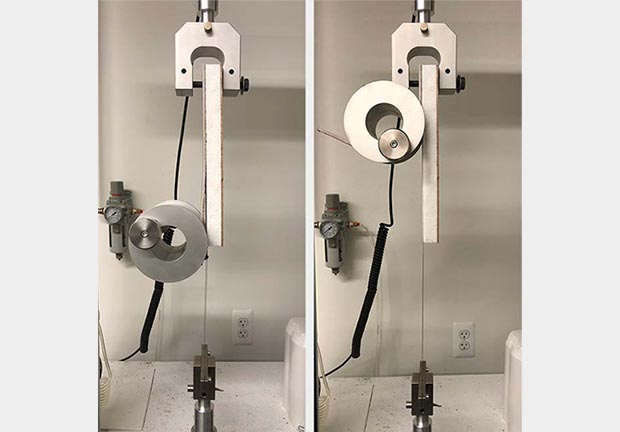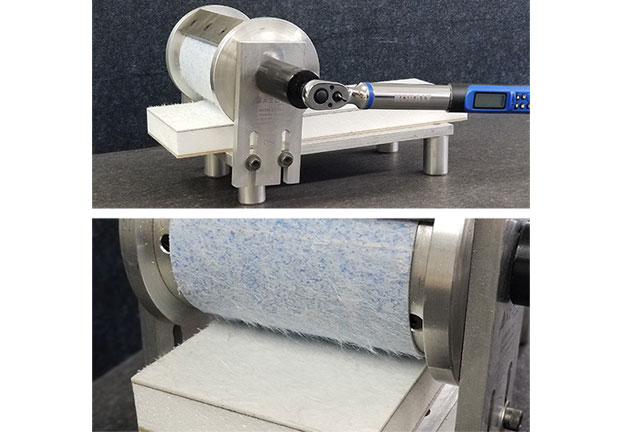 The Climbing Drum Peel – Manual
Contrary to the automated version, this manual device measures the peak load only with the use of a digital torque wrench. While horizontal, this is still considered a climbing test, as the drum appears to roll up the sample as it peels.
This portable device is used in the field for quicker and easier testing of the Gold Bond, to know in an instant the quality of the bond with the FRP skin. It is not as sensitive, and does not graphically display results other than the single peak resistance.
The lower image shows that the bond is strong enough to pull fibers from the substrate. This happens with lauan as well. This is not to be confused with a Flatwise Tensile test.
The flatwise tensile test measures the force required to separate the substrate of a sandwich construction from its core. In doing so, it also identifies the weakest link. In the case of a typical RV wall, the weakest point is the foam insulation, which typically gets ripped apart.