Recreational Vehicles
We continue to expand our range of applications and material finishes for recreational vehicles. With each one, owners gain peace of mind.
Azdel & The RV
In addition to RV sidewall exteriors and interiors, Azdel Onboard® composites are used in the construction of roofs, ceilings, front walls, rear walls, slide-outs and more! After extensive product development, prototyping and testing with various materials and configurations, we finally have a strong, lightweight flooring solution. As more RV manufacturers continue to adopt our material, we are driven to develop solutions to meet their needs and those of the RV owner. Our composite is used on Class A and Class C motorhomes, 5th wheels, travel trailers, minis, teardrops and truck campers. Learn more about RV applications below, but first check out the informative Overview video!
Wondering on which brands we can be found?
Click to learn which RV manufacturers are using Azdel Onboard composite panels in their construction.
Azdel Onboard:
An RV Overview
This video explains why so many RV manufacturers have chosen Azdel Onboard composite material for their RV construction, and why so many RV buyers are specifically seeking out units made with it.
RV owners enjoy the peace of mind, knowing that molding and rotting walls will never be a problem. At least, it won't come from our composite.
Other Benefits
Consistent squareness & weight
Easy to work with
Custom sizes available means less wasted material
Sustainable – no deforestation required
Shorter lead time
Longer RV life expectancy
100% made in U.S.A. with mostly renewable energy
Wall Lamination with Azdel Onboard Composite
The vast majority of RV applications where our composite is found is on a Sidewall Exterior. That is, as an exterior substrate. The image here depicts a typical sidewall construction and its layers. One can accurately infer that our material is hidden behind a visible layer — usually FRP for the exterior or vinyl for the interior décor. Thus, when washing the exterior of your RV, you are not washing our material, but the fiberglass skin that lies over it.
Sidewall Interior applications is a segment that continues to grow quickly. More than ever, RV manufacturers are using Azdel Onboard composite for both sides of their walls, much like what is shown here.
Laminated Front, Rear and Slide walls are constructed similarly, but some front walls, particularly those on a fifth wheel, are molded fiberglass caps which do not require a substrate.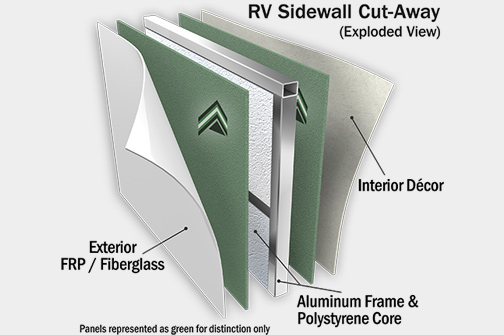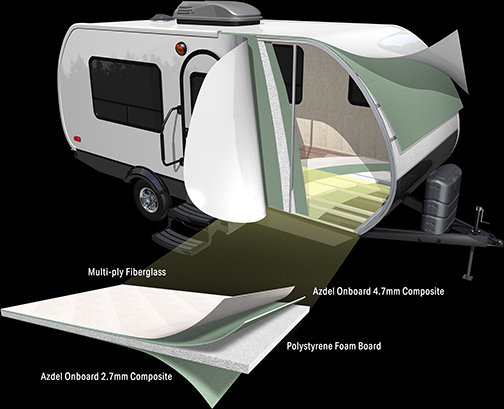 Floor Application with Azdel Onboard Composite
After over two years of development, trialing and testing, we offer a durable and cost-effective composite
floor solution that can be seemlessly incorporated into your existing process or that of your laminator.
The Azdel Onboard composite floor offers benefits similar to those of sidewalls made with our material,
and eliminating the risk of floor degradation from mold and rot is critical. This configuration exceeds the
benchmarks of common floor construction in terms of flex and puncture resistance. RV makers can simply
choose the layer thickness and grade based on the needs of their units.
Click here to dig deeper into the testing that took place during and after this floor's development.
Contact us for more information.
Azdel Lamination
Crediting Coachmen here for compiling snippets of their sidewall lamination process, giving a glimpse of the various steps from the FRP glue coating to the vacuum bag curing.
The vacuum bag is one of the two main and proven methods by which RV manufacturers apply the necessary, consistent and even pressure to the wall to complete the curing process and form a structurally sound wall that lasts.
More History
Azdel Onboard composite panels were first made part of the regular production process of sidewall construction in 2006.
Since then, steadily more and more manufacturers have adopted our composite for a variety of applications. Here is a link to our Brands page where you can find many that use our composite in various areas of their construction.